Uhh, Paris. Of course.
Sure, maybe that was over a month ago. And maybe I've baked a million things since then and took pictures of many of them and really really thought about blogging but instead decided to check and see if any friends updated their Facebook. Whatever. Call me lazy.
I'm lazy and a procrastinator and have been happily baking and eating my way through the month of June without paying any attention to my blog, but perhaps you'll forgive me if I tell you I brought you a souvenir from Paris?
First, I have to back up a little bit and say (once again) that I've got a fantastic husband. Ugh, I know, you're tired of hearing it. But he really is super great. So great that he got me maybe the best Mother's Day present ever... a weekend in Paris PLUS two days of classes at Le Cordon Bleu. Seriously awesome. On the first day I did a market tour and then watched the chef prepare a beautiful meal with fresh ingredients. And then on the second day I did a more hands-on class where I learned how to make croissants, pains au chocolat, and several variations of brioche. Ohhh, the pastries. Ben signed me up for that one just so he could have as many croissants as his tummy could hold (he was not disappointed).
But the recipe that I bring you today is not pastry. It is instead from the market tour demonstration and it is much easier! No rolling and folding and chilling and rolling and flouring and praying! And wonderful for summer! And easy! Magnifique! I highly encourage you to make this and sit outside and eat while closing your eyes and transporting yourself to France. Sipping a glass of the leftover cabernet isn't a bad idea either....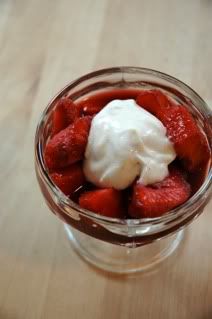 Chilled Strawberry Soup
500 g strawberries
250 ml freshly squeezed orange juice
250 ml cabernet
100 g sugar
20 black peppercorns
50 fresh ginger, grated
1 vanilla bean
3 star anise
3 cardamom pods (whole or crushed)
Pour the juice into a small saucepan. Split the vanilla bean and scrape the seeds into the juice and then add the pod as well. Add peppercorns, ginger, star anise and cardamom and bring to a boil. Lower heat and simmer until reduced, and then remove from heat and place the pan in an ice bath.
Halve the strawberries and place them in a large bowl with the sugar and let sit for a few minutes. Add the wine to strawberries, and when the orange juice is cool, strain and pour over strawberry mixture. Cover and chill in the refrigerator for about 30 minutes.
You can serve this with whipped cream, or if you're like me and routinely forget to buy things like cream, a little yogurt with honey and vanilla beans is also lovely.
Bon appétit!