Today we have a guest chef, but he's only a guest on the blog. In our kitchen, he is a permanent fixture, often seen chopping, snacking, or stealing cookie dough as I slap his hands away. And although I'm the one with the foodie reputation around here, Ben has a little secret...
He cooks! And he is really good at it!
He usually takes over dinner duty one night a week (and is master of breakfasts on the rare occasion we have something other than cereal), and he doesn't take his dinner duty lightly. No mac and cheese or tuna casserole here. In the summer he is the resident grillmaster and makes a mean chicken breast. But he also has a secret signature steak rub, makes the most delicious Chicken Monterey ever, and will go on epicurious to try new recipes when he needs ideas. Swoon...
One of my recent favorites from Ben's dinner nights is
Lentil and Roasted Garlic Soup with Seared Steak
.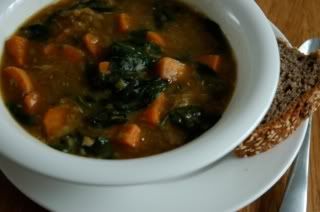 This soup is perfect for us. It's got lentils and sweet potatoes (mmm, sweet sweet potatoes) and it's topped with steak for the carnivores. I like mine sans steak, but I usually can't help sneaking a slice or two because it just looks so good.
We've changed the recipe slightly because buying garlic olive oil is easier than making it, and spinach is much more readily available to us than kale, but no matter what this soup reduces me to a blubbering happy mess.
Lentil and Roasted Garlic Soup with Seared Steak
, adapted from Bon Appétit, March 2006
* 1/4 cup plus 1 tablespoon garlic olive oil
* 1 medium leek (white and green parts only), thinly sliced
* 1 tablespoon chopped fresh sage
* 7 cups (or more) vegetable broth
* 3 tablespoons soy sauce
* 3/4 cup red lentils
* 1 1/4 pounds yams (red-skinned sweet potatoes), peeled, cut into 1/2-inch cubes
* 12 ounces spinach
* 1 1 1/2- to 1 3/4-pound flank steak
* 6 tablespoons grated Parmesan cheese
* Chopped fresh parsley
Preparation
Heat oven to 375. Drizzle olive oil on garlic and wrap well in foil. Roast for about an hour, until soft and delicious. Squeeze roasted cloves out of their skin, into a bowl.
Heat 1/4 cup garlic oil in heavy large pot over medium heat. Add leek and sage. Cook until leek is soft, stirring frequently, about 10 minutes.
Add 7 cups vegetable broth, soy sauce and lentils to pot. Bring to boil. Reduce heat to medium, cover, and simmer until lentils are almost tender, about 15 minutes. Add yams and garlic and cook until yams are tender, adding more broth by 1/2 cupfuls as needed to cover vegetables, about 10 minutes. Add spinach to soup. Simmer until spinach is wilted, about 5 minutes. Season with salt and pepper.
Meanwhile, heat 1 tablespoon garlic oil in heavy large skillet over high heat. Sprinkle steak with salt and pepper. Place steak in skillet and cook until brown and cooked to desired doneness, about 4 minutes per side for medium-rare. Transfer to cutting board; let stand 10 minutes. Thinly slice steak.
Divide soup among 6 bowls. Arrange sliced steak atop soup. Sprinkle with cheese and serve.