I have been wanting to write this blog post forever. But there's always been one slight problem.
Let me start at the beginning. First, I have a really great husband. An understanding husband who recognizes that I cannot, cannot, function in the morning but also knows that I loooove breakfast. I especially love "special" breakfasts, like french toast, waffles, and pancakes. Oh, pancakes. A while back, my dad e-mailed me a pancake recipe that they got from a friend of theirs, and I was intrigued by it. We had previously been Bisquick devotees, but as delicious as they could be, Bisquick pancakes were a little too much for me and I was dreaming of something better, maybe something whole grain, but not all dry and yucky. So when I saw this recipe that included oats and cottage cheese and no flour, and that came with high praise from my parents (a couple of serious foodies), I had to give it a shot.
And by give it a shot, I mean decided to have Ben make them for me. I'm serious. I don't do stoves in the morning, unless it's Ben's birthday and then I am oh so wonderful and I even make bacon (it should be noted that I don't do meat and splattering grease in the morning either). And, good man that he is, he made them without even a little protest.
And lo and behold, these funky little oatmeal and cottage cheese pancakes were delicious! They taste like normal pancakes, but don't leave me slumped over my chair saying "Uhhhh... too... many... pancakes". They're just plain yummy. And, lucky girl that I am, Ben makes them for me on a semi-regular basis.
So, back to this problem I mention earlier. I know you're thinking, "Problem? What problem could you possibly have? You laze around in bed on weekends while your husband makes you your favorite breakfast. Whatever, lady."
But really, this is kind of a problem. You see, I've been wanting to blog about this pancakes joy for ages, but every time he makes pancakes, I find myself with an empty plate, a full belly, and I smile on my face, and then I say, "Doh! I was going to take pictures and blog this!" I just could never contain my happiness on pancake day long enough to maintain rational thought and get the camera.
Until now.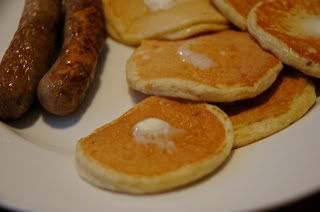 When we went grocery shopping on Friday, I saw Ben put cottage cheese in the cart. And then he told me to pick out some sausage. Ooooh, it was gonna be a pancake weekend! And it was! On Saturday morning, Ben and Wesley got up and headed down to the kitchen to make something special for Mama.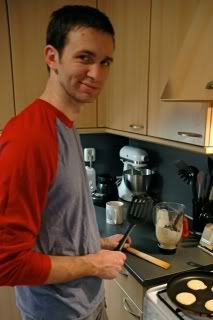 Yum, yum, yum.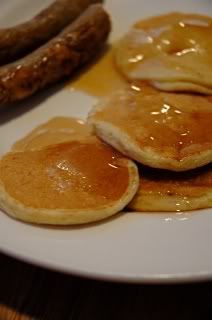 Wesley was very interested, and felt that he deserved a pancake for all his hard work helping his Da with breakfast, but we're mean parents. No pancakes for baby!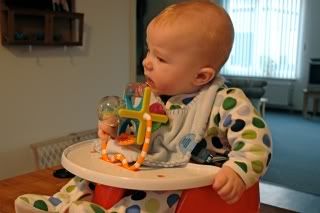 Ellen's Pancakes
Makes about 16 silver dollar sized pancakes, enough for 2 hungry people
4 eggs
8 oz cottage cheese
3/4 cup oats
2 tablespoons oil
1/4 teaspoon salt
Put everything in a blender and mix until smooth. You can do this the night before if you want, especially if you are morning non-functional like me and don't have a Ben around to make you pancakes.
Drop batter by heaping tablespoons on a greased hot griddle. Flip when under side is golden brown. They need to be cooked just a tiny bit longer than normal pancakes to make sure the oats are cooked and the insides aren't goopy. And they shouldn't be big pancakes because they won't cook as well.
Top with fruit and/or nuts if you're feeling virtuous, or butter and maple syrup if you're not. Either way, they are healthier than your average pancake with fiber, protein, etc etc. So I vote that you give them some real maple syrup, you deserve it! Enjoy!