Do you know what this is?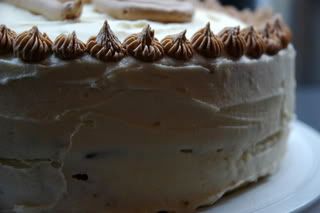 Here, I'll make it easier for you with multiple choice.
That is:
A) a cake, duh.
B) delicious.
C) my first paid baked good order.
D) All of the above
Correct answer: D
That's right, not only is it a delicious cake, someone actually PAID me to bake it. How cool is that? I'm going to frame my 20 euros as I'm on my way to being the Donald Trump of the baking world!
Ben called me on Thursday morning from work and informed me that I'm now famous. Huh? A woman that he works with (who doesn't even eat the treats that I send with him to work each week) came to him in a slight panic and explained that her grandson's birthday was the day before and she was wondering if I could bake a cake by the next day. Apparently she knew of my baking reputation and thinks my baked goods are gorgeous. Sweet.
So Ben called to ask. Hmmm. My previous plan had involved sitting at home with Wesley, watching some Sex and the City and relaxing a tiny bit because I didn't have to go anywhere or do anything for a change. It was going to be peaceful. Well, peaceful-ish. I do have a tiny baby that sucks all my time and attention. But still.
But baking? For money? I was giddy!
I gave him a bunch of cake options and she picked
Caramel Cake with Caramel Cream Cheese Frosting
from Cottage Living. I left of the pecan praline because I just didn't want it on there, and I decorated it with a milk chocolate caramel buttercream.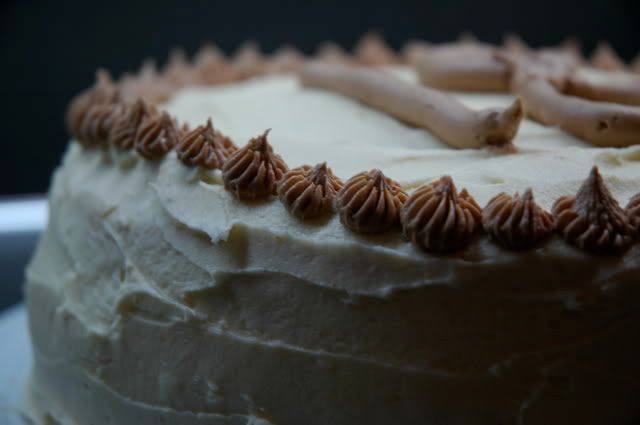 Yum.
Caramel Cake with Cream Cheese Frosting
MAKES: 1 (9-inch) 2-layer cake
PREP: 45 minutes
CHILL: 4 hours or overnight
BAKE: 35 to 40 minutes
3 1/2 cups sifted cake flour
2 teaspoons baking powder
1/4 teaspoon salt
1 3/4 cups granulated sugar
1 3/4 cups light brown sugar, divided
1 1/4 cups butter, softened and divided
6 eggs
1 teaspoon vanilla extract
1 cup milk
1/2 cup evaporated milk
Caramel Cream Cheese Frosting
Garnish: Pecan Praline
1. Preheat oven to 350°. Grease 2 (9-inch) round cake pans; line with lightly greased parchment or wax paper.
2. Combine flour, baking powder, and salt in a bowl; set aside. Place 1 3/4 cups granulated sugar, 1/4 cup light brown sugar, and 1 cup butter in a large bowl; beat with a mixer at medium speed 5 minutes or until well blended. Add eggs, 1 at a time, beating well after each addition. Stir in vanilla. Add flour mixture and 1 cup milk alternately to butter mixture, beginning and ending with flour mixture and beating at low speed after each addition. Pour into prepared pans; sharply tap pans once on counter to remove air bubbles. Bake at 350° for 35 minutes or until wooden pick inserted in center comes out clean. Cool in pans on wire rack 10 minutes; remove from pans, and cool completely on wire rack. Place 1 layer on a cake plate.
3. Combine 1 1/2 cups brown sugar, evaporated milk, and 1/4 cup butter in a saucepan. Cook over medium heat, stirring until sugar is dissolved. Cook (without stirring) until a candy thermometer registers 238°. Transfer to a heat-resistant bowl, and beat 3 minutes or until thickened and easy to spread. Quickly spread filling over cake layer on plate. Cover loosely with plastic wrap; chill 15 minutes or until set.
4. Spread a thin layer of Caramel Cream Cheese Frosting over filling. Top with second layer. Frost cake. Chill 20 minutes or until frosting sets, then cover and chill 4 hours or overnight. Let stand 10 minutes at room temperature before serving. Garnish, if desired.
Caramel Cream Cheese Frosting
PREP: 5 minutes
CHILL: 35 minutes
COOK: 5 minutes
1/4 cup light brown sugar
10 tablespoons butter, divided
1/3 cup heavy whipping cream
8 ounces cream cheese, softened
1/2 teaspoon vanilla extract
Dash of salt
1 3/4 cups powdered sugar
1. Melt brown sugar and 4 tablespoons butter in a saucepan over medium heat. Stir until sugar dissolves. Bring to a boil over medium heat; remove from heat. Whisk in cream; blend well. Transfer to a heat-resistant bowl. Cool at room temperature, stirring occasionally.
2. Place remaining 6 tablespoons butter and cream cheese in a large bowl; beat with a mixer on medium-high speed until smooth. Beat in vanilla and salt. With mixer running, slowly pour in cooled brown sugar mixture; beat until smooth. Add powdered sugar gradually, beating well after each addition until completely smooth. Chill slightly for a firmer texture, stirring occasionally.
Ellen's Chocolate Caramel Buttercream
1/3 cup cream
1/3 cup caramel bits, or chopped caramel candies
3 ounces milk chocolate, chopped
1/2 cup butter
3 cups powdered sugar
1/4 cup cocoa
1. Melt caramel with cream in a small saucepan, stirring until smooth. Put chocolate in a bowl and pour hot caramel mixture over it. Let stand 1 minute, and then stir until smooth. Cool to room temperature.
2. Mix sugar and cocoa in a bowl and set aside.
3. Beat butter in the bowl of an electric mixer until fluffy. Add powdered sugar and beat until smooth. Slowly add cooled caramel mixture and beat until smooth and fluffy.
*The frosting was sort of an experiment because I needed something to decorate the cake other than the pecan praline. I was going to make a chocolate ganache frosting, but decided at the last minute that it just wouldn't be quite right with this cake. So this is what I came up with and it was SO good. It was light and fluffy, much like a chocolate mousse. Ben and I both thought it was the best part of the cake. He took the leftover frosting for breakfast yesterday. He said it was lovely with his morning coffee.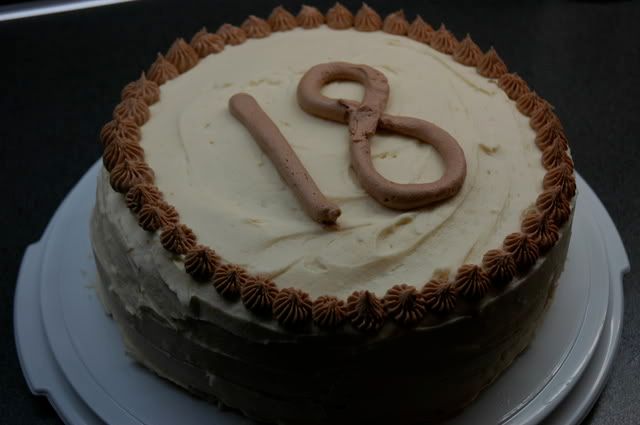 Watch out, world. Ellen's got 20 euros in her frosting covered hands and she's off to spend it on baking stuff! My baking empire is growing, one spatula at a time.