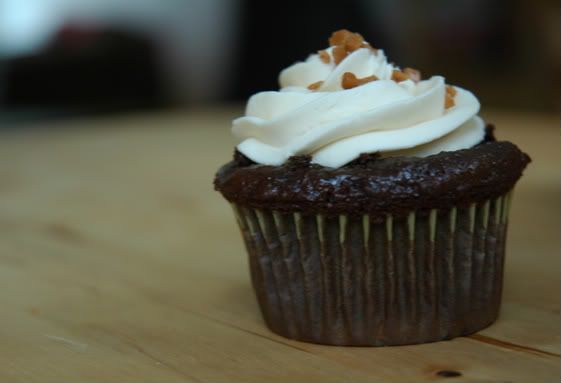 Ben informed me recently of another bake sale at work and asked if I wanted to make something. Duh! I love bake sales! Free reign to bake as much as I want! No people saying, "Oh, I just can't. I'm getting too fat." And it's for a good cause! So as soon as the words "bake sale" come out of his mouth, my brain starts churning.
What can I make? How many things should I make? Mmmm... cupcakes.
I've been wanting to make cupcakes for a while, because I haven't used my
mechanical pastry bag
nearly as much as I've wanted to. And cupcakes are great bake sale items. They're so pretty and little and tempting and delicious. People love cupcakes. I love cupcakes. Unfortunately, I love them so much I couldn't even begin to narrow down the field of flavors I wanted to explore. So I went to Ben, my baked goods taster and decision making hero.
I have a game that I play with myself when I can't sleep at night, or when I'm on long car trips, or when I'm not listening to people who are talking to me. It involves picking a category like ice cream, cakes, cookies, etc, and inventing new flavors. A while back I shared this game with Ben, and he will play along on occasion. Once he gets into it, he's pretty good. He came up with honey ice cream and several variations on it, which is now one of his favorite things to eat in the whole world.
Me:"So, if you had to come up with a cupcake flavor right now, what would it be?"
Ben:"I don't know..."
Me:"Come on... please? You know, cake flavor, filling, frosting, toppings...?"
Ben:(The wheels begin to turn) "I think I would want chocolate cupcakes. With caramel inside... and vanilla frosting."
Me:"Oooh, that sounds good."
And so it was.
I used
Hershey's Perfectly Chocolate Cake
, filled the cupcakes with dulce de leche, and then topped them with vanilla frosting and Heath bits.
The verdict? Soooo goooood. Ben especially liked the frosting. I think we could have both eaten with a spoon. Oh, wait, we did do that. But we could have eaten a whole bowl of it if not for those pesky cupcakes waiting to be frosted.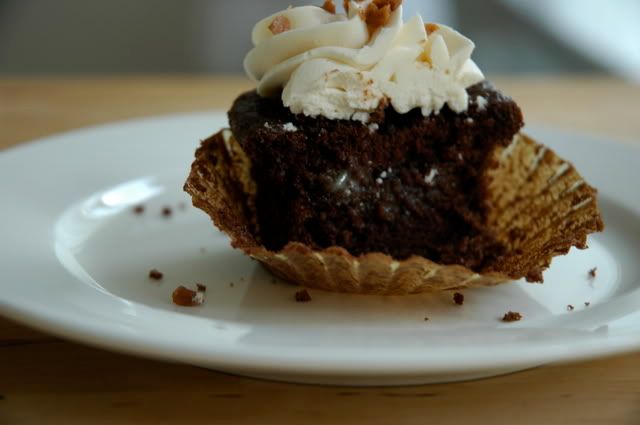 Hershey's "Perfectly Chocolate" Chocolate Cake
2 cups sugar
1-3/4 cups all-purpose flour
3/4 cup HERSHEY'S Cocoa
1-1/2 teaspoons baking powder
1-1/2 teaspoons baking soda
1 teaspoon salt
2 eggs
1 cup milk
1/2 cup vegetable oil
2 teaspoons vanilla extract
1 cup boiling water
Directions:
1. Heat oven to 350°F. Line muffin cups (2-1/2 inches in diameter) with paper bake cups.
2. Stir together sugar, flour, cocoa, baking powder, baking soda and salt in large bowl. Add eggs, milk, oil and vanilla; beat on medium speed of mixer 2 minutes. Stir in boiling water (batter will be thin). Fill cups 2/3 full with batter.
3. Bake 22 to 25 minutes. Cool completely. Frost. About 30 cupcakes.
*I got about 24 cupcakes (plus a little left over batter that Ben volunteered to eat with a spoon), and used half of them for the Chocolate Caramel Cupcakes.
Dulce de Leche
1. Pour 1 can (14 oz.) sweetened condensed milk into top of double-boiler pan. Cover and place over boiling water.
2. Cook over low heat, stirring occasionally, for about an hour or until thick and light caramel-colored.
3. Remove from heat and whisk until smooth.
Easy Vanilla Buttercream
(from Cooks Illustrated April 2007)
The buttercream frosting can be made ahead and refrigerated; if refrigerated, however, it must stand at room temperature to soften before use. If using a hand-held mixer, increase mixing times significantly (at least 50 percent).
Makes 3 cups
Ingredients:
20 tablespoons (2½ sticks) unsalted butter, softened
2½ cups Confectioners' sugar (10 ounces)
1/8 tablespoons table salt
2 teaspoons vanilla extract
2 tablespoons heavy cream
Directions:
1. In standing mixer fitted with whisk attachment, beat butter at medium-high speed until smooth, about 20 seconds.
2. Add confectioners' sugar and salt; beat at medium-low speed until most of the sugar is moistened, about 45 seconds.
3. Scrape down bowl and beat at medium speed until mixture is fully combined, about 15 seconds; scrape bowl, add vanilla and heavy cream, and beat at medium speed until incorporated, about 10 seconds, then increase speed to medium-high and beat until light and fluffy, about 4 minutes, scraping down bowl once or twice.
* I beat my frosting a bit longer than it called for and it was wonderfully fluffy and creamy and delicious. I also used milk instead of cream and it was just fine.
Cupcake assembly
Using a small knife, cut a cone shape out of the top of each cupcake. Set aside. Spoon a bit of dulce de leche into the hole and replace the top of the cupcake. Frost. Don't eat too much of the frosting. Top with toffee bits. Eat lots of cupcakes, or quickly send them off to a bake sale so that you don't go into sugar overload and die a fat and happy death.