I'm a bit of a procrastinator. I always have a list of things I should do and I never seem to get to them. At least, not in a timely manner. For example, I should put Wesley's too small clothes up in the attic to make room in his dresser, read the baby sleep book that Ben finally got around to finishing (we're a procrastinating family), wash the dogs because they're getting a little ripe (but they go to the dog farm when we go on vacation next week, so a bath now would be useless, right?), and perhaps finally put away the Christmas decorations that we stuck up in the guest room "temporarily" when we finally managed to de-Christmas our living room in January.
So, yeah. I put things off. That it why I am super proud of myself for managing to bake appropriately themed cupcakes for Iron Cupcake
before
the deadline! Two months in a row now! Miracle! I even managed to plan ahead and have my wonderful parents send me ingredients that I can't get here.
And my superb planning and motivation + great parents who put up with my postal requests =
Root Beer Float Cupcakes!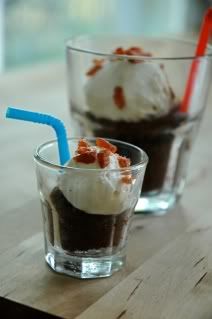 The theme this month was Soda Pop, and my immediate thought was root beer floats. I had about 800 other ideas too, but Ben immediately suggested root beer when I asked him for ideas, and I trust his cupcake eating expertise so I went with it.
The result? We thought they were delicious, but you absolutely must use the glaze. The cupcakes themselves are nice enough, but somehow even with the massive amount of sugar and sweetness from the soda, they still tasted more like a sort of nice muffin to me. And muffins are good and everything, but cupcakes should taste like dessert. The glaze pushed them just over the edge into the sweet and wonderful dessert category. The frosting didn't hurt either.
Root Beer Float Cupcakes
2 1/2 cups root beer
1 tablespoon root beer extract
1 teaspoon vanilla extract
2 cups dark brown sugar
1 cup butter
2 eggs
3 cups all purpose flour
1 tablespoon baking powder
2 teaspoons baking soda
1/2 teaspoon salt
Root beer glaze
Vanilla buttercream frosting
Crushed root beer candies

Preheat oven to 350ºF.
In a bowl, mix together root beer, root beer extract and vanilla extract and set aside.
In a separate bowl, cream together butter and sugar until light and fluffy. Add eggs, mixing well after each one. Sift together flour, baking soda, baking powder and salt. Mixing at a low speed, add flour mixture and root beer alternatively, beginning and ending with flour. Mix until smooth and pour into a lined cupcake pan, filling about 2/3 full. Bake cupcakes about 15-18 minutes for normal cupcakes and 12 minutes for the mini cupcakes, until golden brown and cake springs back when touched.

Root Beer Glaze
1/2 cup root beer
1 teaspoon root beer extract
2 cups powdered sugar
Whisk together root beer, extract and sugar in a small saucepan and bring to a boil. Reduce heat and cook, stirring occasionally until reduced by about half. Let cool.
Spoon a little root beer glaze over each cupcake and let set until cupcakes are completely cool and tops are dry. Top with vanilla buttercream and crushed root beer candies.
Yum!
The voting begins on April 29, and you can go vote for me at http://www.ironcupcakemilwaukee.com. Please vote for me! Pleeeeeeease! If I win, I will be the proud recipient of many fabulous prizes:

Our April ETSY PRIZE-PACK is from artists:

Last and certainly not least, don't forget our corporate prize providers: HEAD CHEFS by FIESTA PRODUCTS, http://www.fiestaproducts.com, HELLO CUPCAKE by Karen Tack and Alan Richardson, http://blog.hellocupcakebook.com, JESSIE STEELE APRONS http://www.jessiesteele.com; TASTE OF HOME books, http://www.tasteofhome.com; a t-shirt from UPWITHCUPCAKES.COM http://www.upwithcupcakes.com/. Iron Cupcake:Earth is sponsored in part by 1-800-Flowers, http://www.1800flowers.com .