Living abroad brings lots of good things - adventure, travel, new experiences, new points of view, the opportunity to learn, grow, eat. I am so grateful that we had the opportunity to move to the Netherlands and I haven't regretted it once.
But even though I wouldn't trade our experience for anything, it has its downside, too. Sometimes I just get lonely and homesick. It's natural, I guess. You miss things - your favorite places, your favorite people, conveniences that you took for granted, speaking English, and just the comfort of feeling like you are where you are supposed to be.
I can't do much about the thousands of miles between our house and "home", but I can find a little bit of comfort here.
Comfort in the form of cake.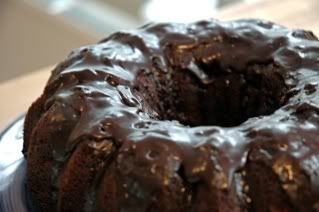 Cocoa apple cake has been one of my favorites for years. This might surprise those who know me because, while the cake does have a little chocolate, it is not chocolate with milk chocolate mousse and dark chocolate ganache and white chocolate shavings. Nope, no death by chocolate. It's just simple and happy and sweet and good. And it tastes kind of like home, and that's just what I need. And licking the cocoa glaze pan doesn't hurt either.
Cocoa Apple Cake
3 eggs
2 cups white sugar
1 cup butter, softened
1/2 cup water
2 1/4 cups all-purpose flour
2 tablespoons unsweetened cocoa powder
1 teaspoon baking soda
1 tablespoon ground cinnamon
3/4 cup semisweeet chocolate chips
2 apples, chopped

1 teaspoon vanilla extract
Cream together the eggs, sugar, butter or margarine, and water
until fluffy
.
In another bowl, sift together the flour, cocoa, baking soda, and spices.
Add dry ingredients to egg mixture and mix well.
Fold in chocolate chips, apple, and vanilla extract.
Spoon into a buttered and floured bundt pan.
Bake at 325 degrees F (165 degrees C) for 60 to 70 minutes until cake tests done. Let cool completely and then drizzle cocoa glaze over the top.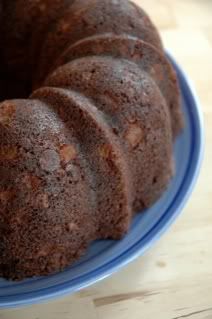 Cocoa Glaze
2 tablespoons butter
1/4 cup cocoa
3 tablespoons water
1 1/4 cups powdered sugar
1/2 teaspoon vanilla
Melt butter in a small saucepan with cocoa and water. Blend in sugar and vanilla. Let cool slightly, stirring again if necessary before drizzling over cake.
Mmmmmm.