Do you ever wonder how I'm not 800 pounds? I mean, have you seen all the cupcakes and cookies and cake and ice cream and... well, everything? Truly, I have a love affair with frosting. Sugar is my kryptonite. Chocolate will always have a special place in my heart and in my fridge. Cookies have never let me down.
But... One cannot live on sugar alone. So I have to confess... I'm in love with vegetables. My heart skips a beat when I see the beautiful piles of produce at our market. I dream of roasted zucchini, grilled portabellos, sauteed spinach. The phrase "Oooooh, vegetables!!!" often escapes my lips in moments of glee.
Dessert may be my one true love, but I eat vegetables on the sly and I just can't quit them. This works out well for me, though. Because while I indulge my dessert loving side every once in a while (and exile the brownies to Ben's workplace the rest of the time), I eat piles and piles of vegetables on a daily basis and it balances out the frosting habit. Often I can think of nothing better than a big plate full of veggies for dinner.
With this in mind, it should come as no surprise that I'm a big fan of ratatouille. My ratatouille recipe (which I borrowed from
Epicurious
and tweaked to my tastes) is not fancy. It doesn't have carefully arranged slices of squash, artfully displayed in a beautiful dish. It doesn't need it, because it's got flavor and love and comfort. And enough vegetables to make me smile and sigh and rub my belly happily.
Ratatouille
* 1 eggplant, cut into 1/2-inch cubes
* 400 grams of shallots, quarterd
* 3 tablespoons olive oil
* coarse salt to taste
* 2 zucchinis or yellow squash, cut into 1/2-inch cubes
* 2 large red bell peppers, cut into 1/2-inch cubes
* 2 cans diced tomatoes
* 7 garlic cloves, minced
* 1 teaspoon chopped fresh thyme
* 1 teaspoon chopped fresh oregano
* 1/4 cup finely chopped fresh basil
* grated Parmigiano-Reggiano
Preheat oven to 450°F.
Stir together eggplants, onions, 2 tablespoons oil, and kosher salt in a large roasting pan, then roast mixture in middle of oven, stirring occasionally, 15 minutes. Stir in squash, bell peppers, 1 tablespoon oil, and more kosher salt and roast mixture, stirring occasionally, until bell peppers are tender, 25 to 30 minutes.
While vegetables are roasting, simmer tomatoes, garlic, thyme, and kosher salt in a heavy saucepan, stirring occasionally, until thickened, 12 to 15 minutes. Stir tomatoes into roasted vegetables and season ratatouille. Top with grated cheese.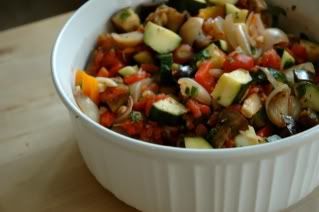 Left to my own devices, I would eat this all by itself, day in and day out. But it is also delicious as a side to roasted chicken, with polenta (as we have it here) or a nice crusty bread, or served over pasta.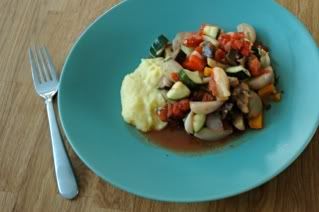 And then have a cupcake for dessert!