I was trying to think of a witty story to tell about my cupcake baking adventures and mishaps this weekend, but I kept coming up with nothing. Just cupcakes, yummy cupcakes. I joined
Iron Cupcake
last month, but didn't make a coffee themed cupcake because... well... baby, tired, sniffly, bored, baby, excuses, excuses... And so last week I was sitting, looking at frosted food porn on my computer, and all of the sudden realized, "Shoot! I'm going to miss the deadline again! I need to make cupcakes!"
So I did. I made cupcakes. This month is Nuts and Seeds, so I brainstormed a list of ideas and sent them to work with Ben so he could poll his colleagues. I figured I would let them choose because A) Once I start coming up with cupcake ideas I can't turn off my brain and there's no way for me to pick just one, and B) They are the lucky consumers of all of my baked goods, so I thought it might be nice to leave the choice up to them.
And they chose...
Chocolate cherry cupcakes with an amaretto cream filling and almond buttercream.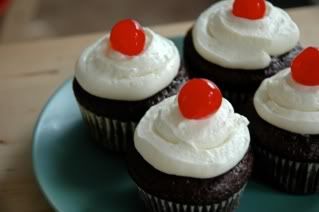 a.k.a. the only nutty cupcakes that will ever grace Ben's tastebuds.
Ben absolutely abhors nuts, all nuts, anything vaguely nutty, and yes, that includes peanut butter, pistachios, Nutella, and anything else that might fill in the blank in your question, "But what about ____? Not even ____?" Nope. No nuts. The only teeny tiny exception is almond flavoring. The actual nut is out, but he finds almond extract downright pleasant. Go figure.
So even though this month's Iron Cupcake theme is nutty, Ben was able to taste (and taste, and lick the bowls, and pat his stomach contentedly) and declare that my cupcakes were good.
Chocolate Cherry Cupcakes
* 3/4 cup unsweetened cocoa powder
* 2 cups all-purpose flour
* 1 1/2 cups sugar
* 1 1/2 teaspoons baking soda
* 3/4 teaspoon baking powder
* 3/4 teaspoon salt
* 2 large eggs
* 3/4 cup warm water
* 3/4 cup sour cream
* 3 tablespoons canola oil
* 1 teaspoon almond extract
* 1 cup cherry preserves
Preheat oven to 350 degrees. Line standard muffin tins with paper liners; set aside. Sift together cocoa powder, flour, sugar, baking soda, baking powder, and salt into a large bowl.
Add eggs, warm water, sour cream, cherry preserves, oil, and almond extract, and mix until smooth.
Fill muffin cups about 2/3 full and bake until tops spring back when touched, about 20 minutes, rotating pan once if needed. Transfer to a wire rack; let cool completely.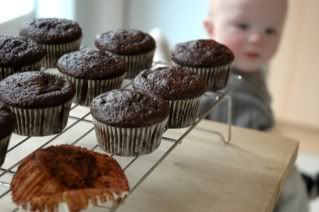 Amaretto Whipped Cream
* 1/2 tsp gelatin
* 1 tbsp water
* 1 cup heavy cream
* 2 tbsp powdered sugar
* 1/4 cup amaretto
In a small bowl, sprinkle gelatin over 1 tablespoon of cold water. Set the container into about 1 inch of hot water in a saucepan and let stand until gelatin dissolves. Remove from the hot water. Set aside for a minute to cool slightly. Whip the cream until almost stiff, then add the gelatin, amaretto, and confectioners' sugar. Continue whipping until stiff.
For the frosting, I used my regular buttercream recipe, found
here
, but I used a tablespoon of almond extract instead of the vanilla.
Cupcake assembly
Using a small knife, cut a cone shape out of the top of each cupcake. Set aside. Spoon a bit of whipped cream into the hole and replace the top of the cupcake. Frost. I topped the cupcakes with maraschino cherries because I love them and they're pretty. I think they would also be good with chocolate shavings, slivered almonds, or all of the above.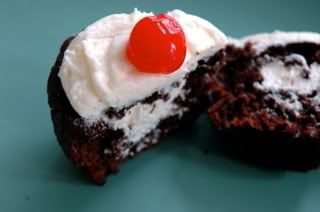 Competing in Iron Cupcake is not only fun, but also comes with prizes for the winner!
The March ETSY PRIZE-PACK is from artists:
Last and certainly not least, don't forget our corporate prize providers:
HEAD CHEFS by FIESTA PRODUCTS,
http://www.fiestaproducts.com
,
HELLO CUPCAKE by Karen Tack and Alan Richardson,
http://blog.hellocupcakebook.com
,
JESSIE STEELE APRONS
http://www.jessiesteele.com
;
TASTE OF HOME books,
http://www.tasteofhome.com
;
a t-shirt from UPWITHCUPCAKES.COM
http://www.upwithcupcakes.com/
.
Iron Cupcake:Earth is sponsored in part by 1-800-Flowers,
http://www.1800flowers.com
.